From some reading around in this forum, with posts going back to 2003 no less, I've figured out that my trusty old KHypermedia 8x4x12 is in fact a BenQ 800 - which probably explains why it seems to do better quality writes than the SH-S182M I bought as a replacement. (funny as well to see that Ian and Dolphinius Rex don't seem to have aged a bit in four years!)
Anyway, I thought the next logical step for my write quality comparison tests (using CD-DVD Speed 4.7.0.0) would be with DVD+RW media. I have a few Memorex 4x +RW disks. I thought I'd use the
"Create Disc"
tool in CD-DVD Speed to burn an ISO file to a +RW disc with each burner.
Unfortunately, I was not able to do that with either burner - the
"Start"
button was greyed out for both of them. Any ideas why that might be? I'd done a quick erase on both +RW discs first. I'd been able to successfully use the tool with +R discs.
Fair enough, I just used Nero to burn the ISO's, producing two discs that were playable both on my pc's and on the set top DVD player. (they were movie files)
The odd thing is that the BenQ can't read the +RW disc burned in the S182M - it shows as "Blank DVD" - but the S182M can read the disc burned in the BenQ. Here's the png of the Disc Info for the disc burned by the S183M, if it's any help.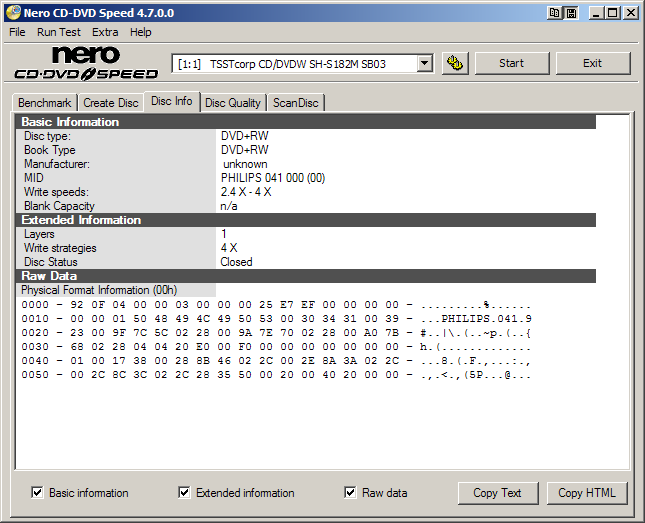 Here's the Disc Info for the disc burned by the BenQ:
Is this fixable? As ever, I would greatly appreciate any suggestions!